Workplace

Giving

Platform
Give with ease. Improve employee engagement and employee retention with a customized Workplace Giving Program. Facilitate philanthropy and measure company-wide impact on one, secure platform. Easy to manage for you, easy to use for your employees.
Request demo
Watch overview video videocam
What is a Workplace Giving Platform?
Our platform powers Workplace Giving Programs (inclusive of nonprofit vetting, donations, volunteering, and impact reporting) and is fully custom-configured for each customer. Easy-to-use for employees and zero-to-manage for you, our Giving Platform provides a single source for everything from matching donations and fundraising campaigns to virtual volunteering and impact reporting.
How will your
company

benefit

from our Workplace Giving Platform?
Your challenges:
Your existing giving program is a cumbersome process for your employees to participate in and for you to manage.

Offering employees choice is impossible to manage manually; everyone cares about different things, and there are millions of charities.

Setting up fundraisers and or matching donation campaigns requires expertise, guidance, and a lot of time that you don't have.

You lack the right tools to help measure and communicate your impact.

You put too much time and effort into building a giving program, only to see low employee participation.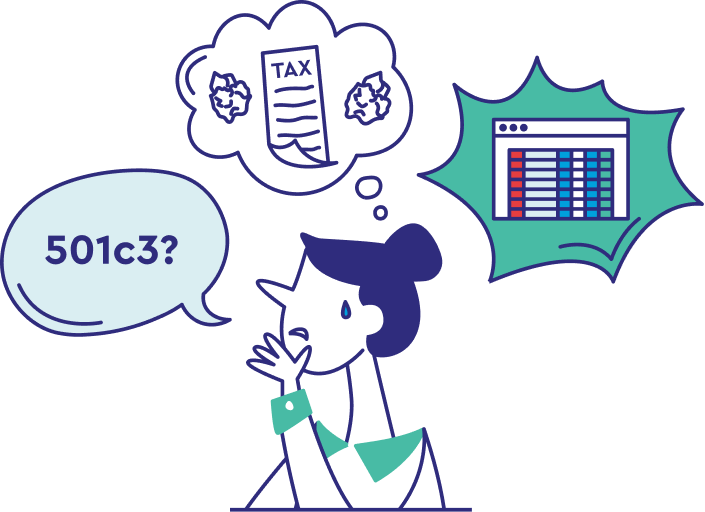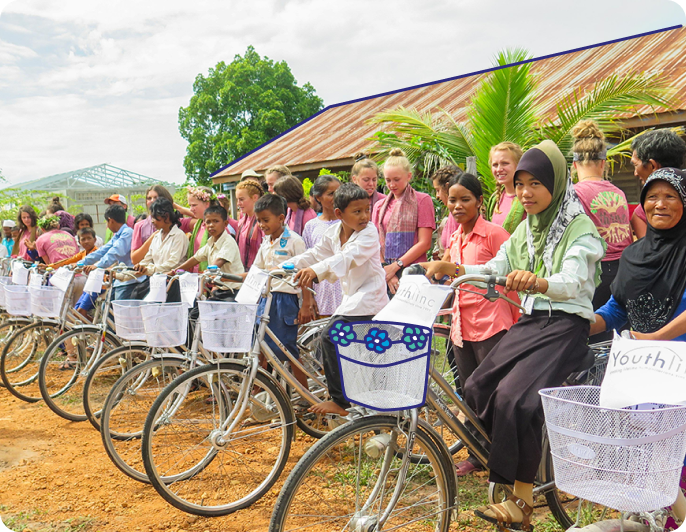 Our solutions:
We custom-configure our platform, fully tailored to your company, values, and culture. Easy to manage for you, easy to use for employees.

Boost employee engagement and impact with unlimited matching donations, gift donations, and campaigns.

Empower employees with choice and flexible donation options including vetted Cause Portfolios and a searchable database of more than 1.5 million charities.

Measure your company-wide impact in one central, secure platform that eliminates all your manual work (SOC 2 Type II Certified).

Get access to personalized monthly impact reports, both on a company and individual level.

More than 40% of employees engage in the programs Percent Pledge powers (more than 2x industry averages).
Corporate giving process
With Percent Pledge, you can launch your fully customized Workplace Giving Program in as little as three days.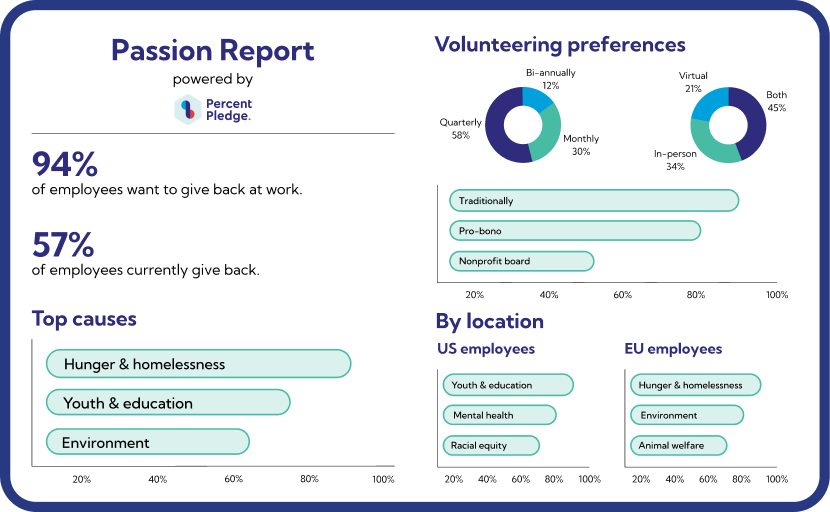 Employee Passion Assessment
We gather insights on what your employees care about most and how they want to give back.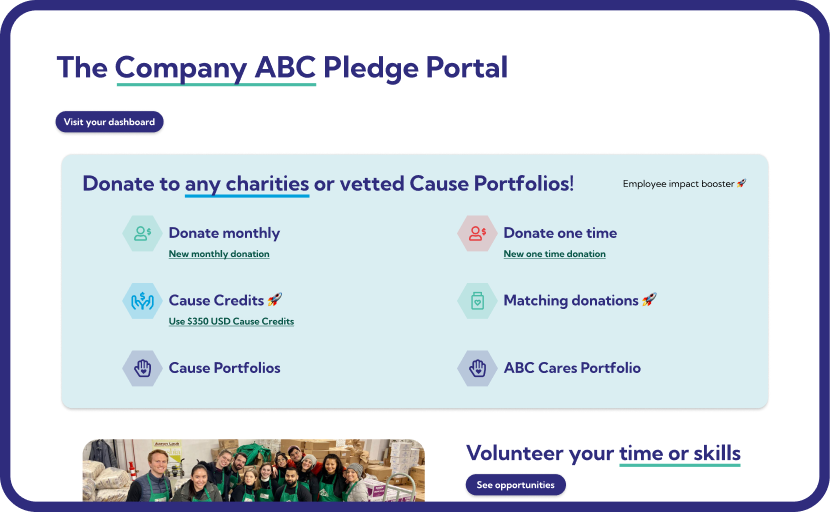 A tailored social impact program
Based on the Employee Passion Assessment, we create a social impact program fully tailored to your company's goals, needs, and culture.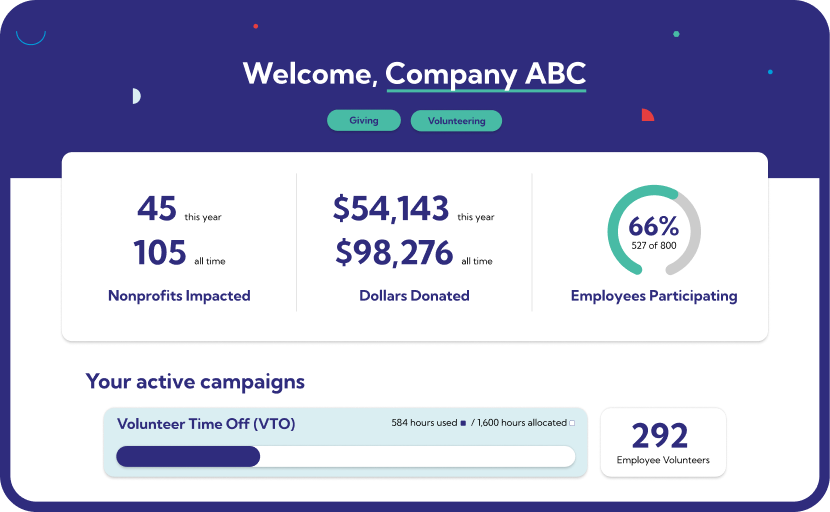 Impact tracking
Our solution provides full transparency. Each employee, and your company, can engage with real-time dashboards and monthly personalized impact reports.
How can your company
donate

with Percent Pledge?
Employees give with
choice
Don't know which charities to support? Don't worry, we've got you covered with our wide range of trusted and flexible giving options.
01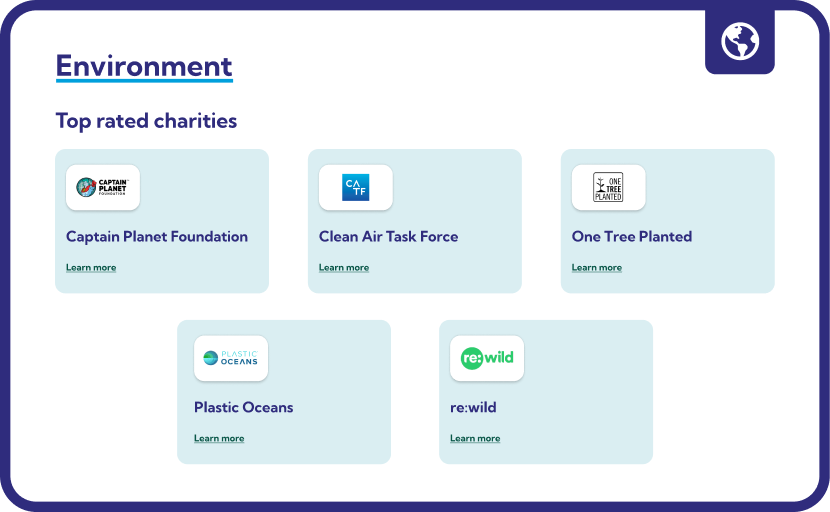 Vetted Cause Portfolios
Cause Portfolios consist of nonprofits carefully vetted by Percent Pledge that support a specific cause or community in a unique and innovative way.
02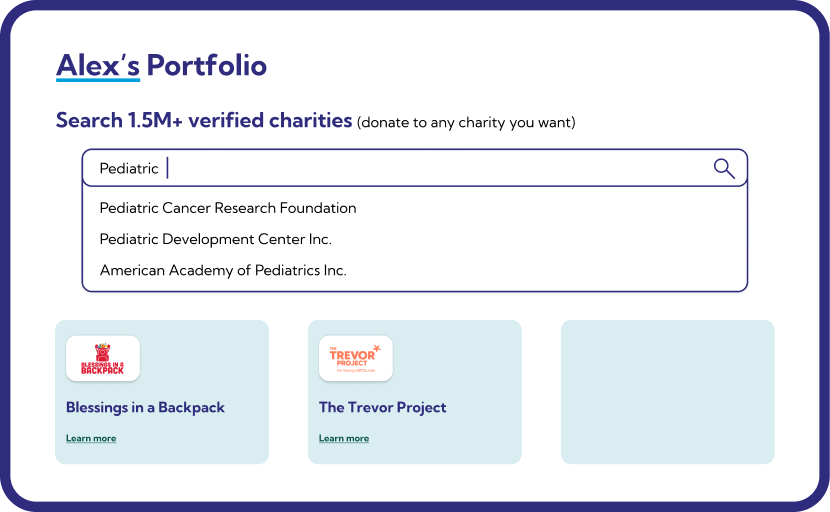 Donate to any charity
Let your employees donate to any charity they want. There are more than 1.5 million available on our platform.
03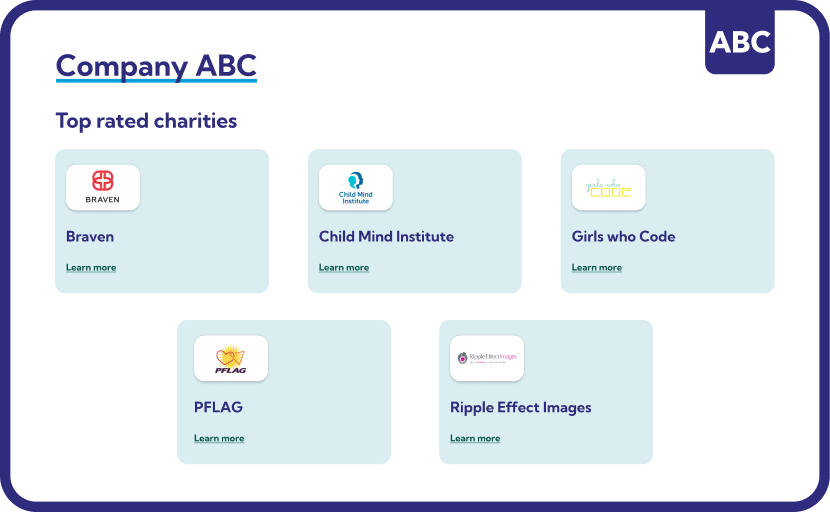 Company Portfolio
Our social impact experts can curate a portfolio of nonprofits or causes that align well with your brand, culture, and employee passions.
04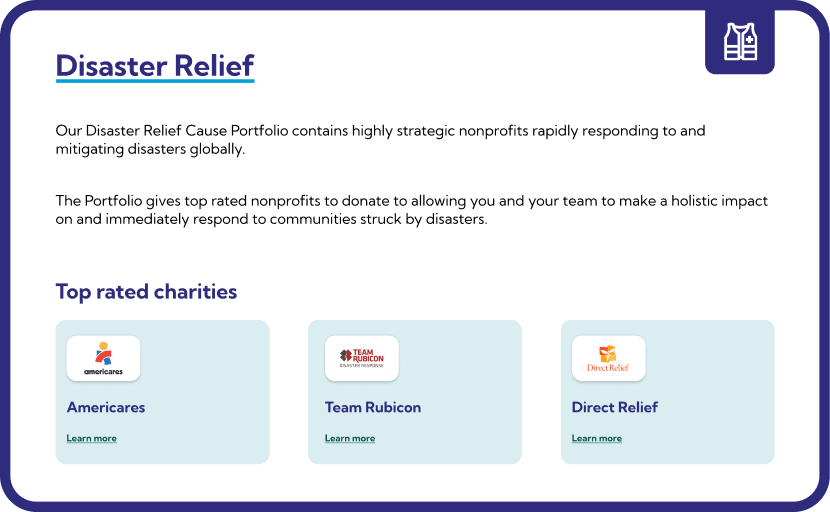 Rapid Response Portfolio
Donate to vetted charities for fundraising campaigns or relief efforts.
05
Combination
Feel free to combine all of the above and get the max out of your social impact program.
Employee giving process
This is what our platform looks like for employees while they donate.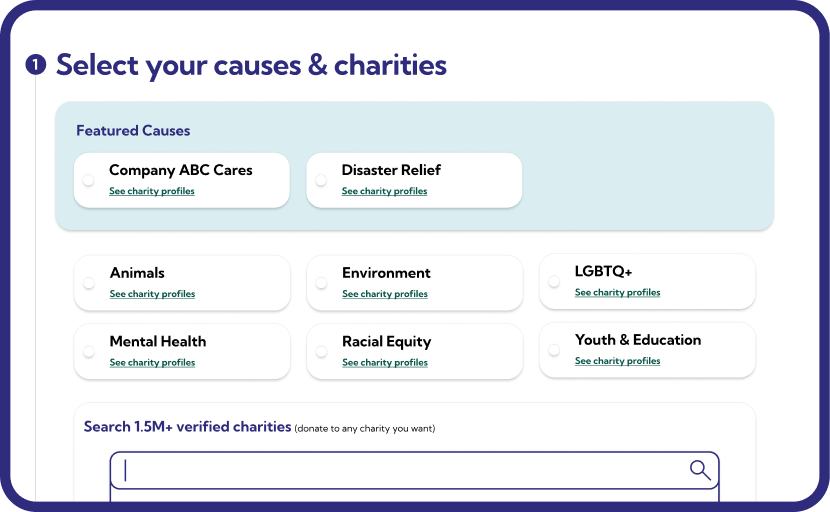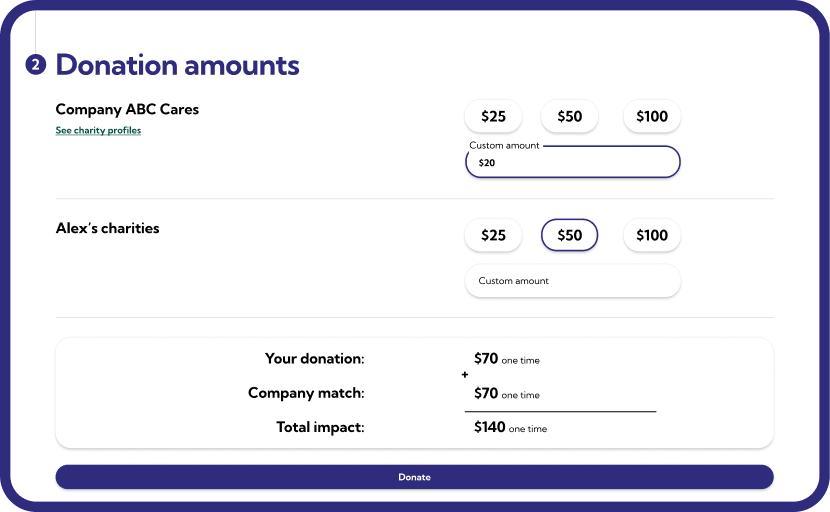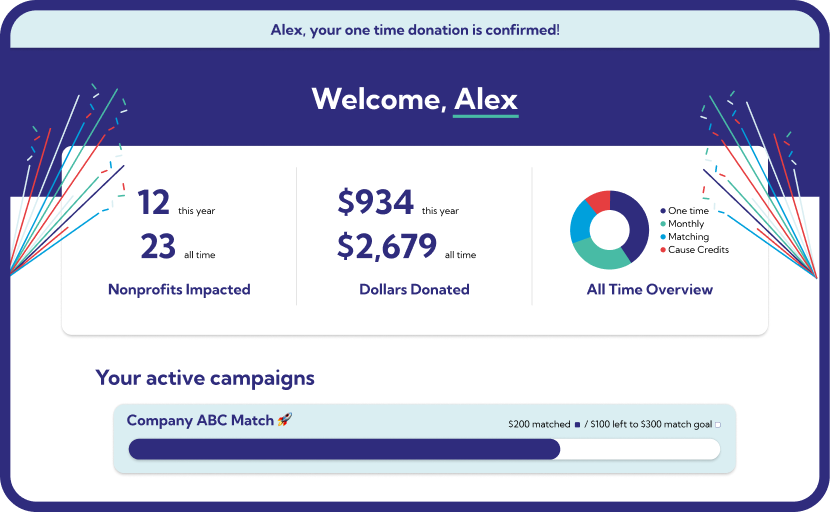 Choose your causes and charities

Find and support the nonprofit or cause you care about the most. Our platform offers plenty of donation options to vetted nonprofits and more than 1.5 million charities tackling many different causes across the globe.

Select your amounts

Select the amount you'd like to donate to the chosen charities or Cause Portfolio(s).

Celebrate your impact

You've done something amazing! Now, track your impact through our personalized impact reports and celebrate your impact with your colleagues.
What our customers say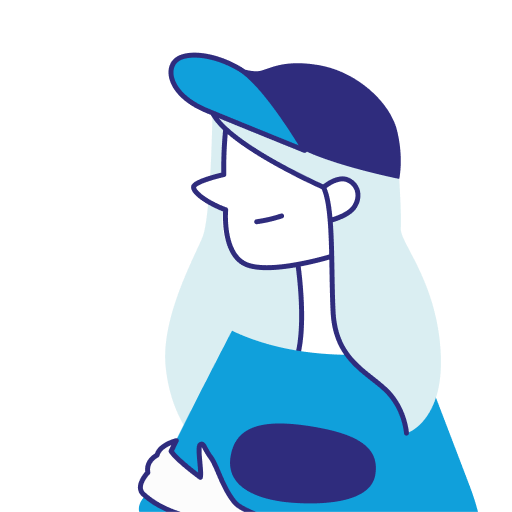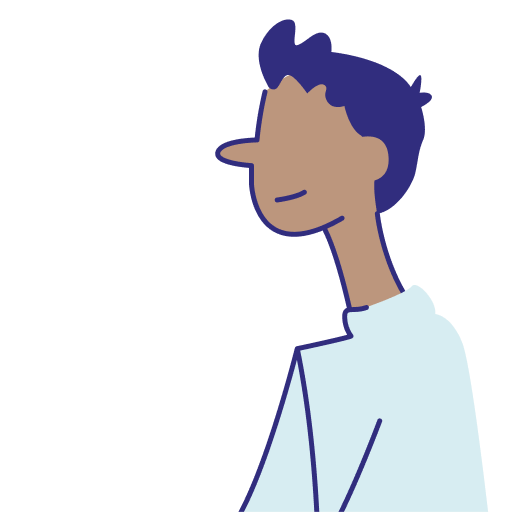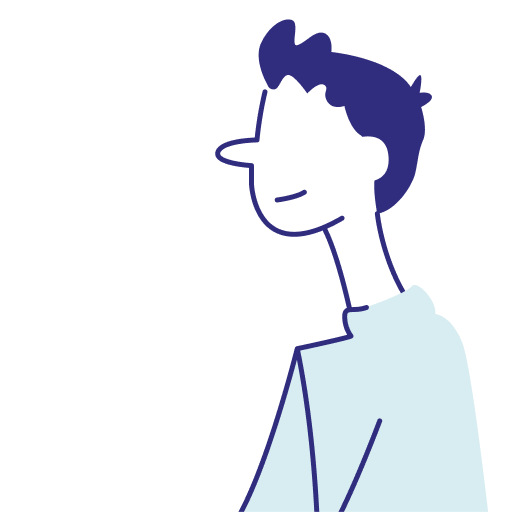 Request demo
Want to customize the perfect Workplace Giving Program for your company and employees?
Request demo
Why companies partner with us:
One platform for donations, volunteering, and reporting.
Easy to manage for you, easy to use for your employees.
A searchable database of more than 1.5 million verified charities.
Field, skills-based, and virtual volunteering events.
Personalized monthly impact reports delivered on a per-employee and company-wide level. Plus, real-time impact dashboards.